We are always grateful when someone leaves us a lactation cookies review!
Because it helps more wonderful people such as yourself to find us! Why not take a few minutes to read what some of our customers had to say about Sweet Graze lactation cookies?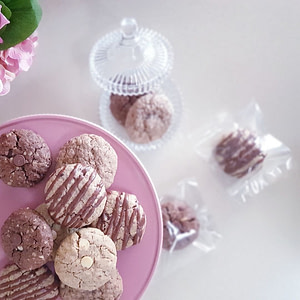 Sweet Graze lactation cookies review by Natalie:
"These cookies have made my breastfeeding journey so much easier. I noticed a difference within the first 36 hours of eating the Nutella cookies, which are super yummy! I haven't been able to express this much milk ever and has now taken so much anxiety away and has also made breastfeeding my little one easier as well with these boobies full of milk. Thank you so much!"
Sweet Graze lactation cookies review by Victoria:
"Thank you so much! I've gone from only being able to pump 40ml to this morning pumping a whole bottle and a half. Even though I haven't had the cookies for couple of weeks, I swear they kick started my supply! Can't wait to pick up my order today."
Sweet Graze lactation cookies review by Tenille:
"I am so pleased with these products. They have been a godsend in helping me maintain my milk supply. And they taste delicious as well. I have never tasted such a good tasting cookie before that also has the benefits of boosting your supply. I highly highly recommend this business. They have been a pleasure to deal with and nothing's a trouble, every question answered and promptly. I wish I had known of these during my previous 3 babies. #4 is definitely receiving the benefits of finding these. Thank you again 10/10."
So many great lactation cookie reviews! Where can I buy them?
So you've read all the lactation cookies reviews for our biscuits and you're ready to take the plunge and try for yourself. Ordering is simple, and we offer a number of payment and postage options. Simply click on the 'Buy' tab and you will be able to see our selection of lactation cookies. Over the years, Sweet Graze has developed a tasty range of delicious flavours, and we now also have options for those with dietary requirements too, so nobody has to miss out! All of our lactation cookies are individually wrapped and heat-sealed, to freshness and be a convenient snack for you anytime, anywhere.
We'd love it if you'd leave us a lactation cookies review!
Here at Sweet Graze, we believe that a recommendation is the highest compliment that we can receive. Every time someone leaves us a lactation cookies review, we do a little happy dance, knowing that we've helped a mum on her breastfeeding journey. Reviews are also really important to us, because it means that we can reach more mothers who are looking for products to support them.
If you have tried our biscuits and would like to leave us a lactation cookies review, we have a number of platforms where you can do this.
Product pages on our website sweetgraze.com.au
Social media- facebook and Instagram https://www.facebook.com/sweetgraze and https://www.instagram.com/sweetgraze/
Disclaimer
This blog, entitled "Lactation Cookies Review" is intended for informational purposes only. Sweet Graze does not intend for content described in blogs to be taken as general or medical advice. If you are having trouble with your milk supply, we always suggest that you seek the advice of a qualified lactation consultant or your trusted healthcare professional.